TRUE CRIME IN CONVERSATION
LONDON PREMIERE ANNOUNCED
LONDON EVENTIM APOLLO TO HOST TRUE CRIME IN CONVERSATION PREMIERE, SATURDAY 8TH JUNE 2019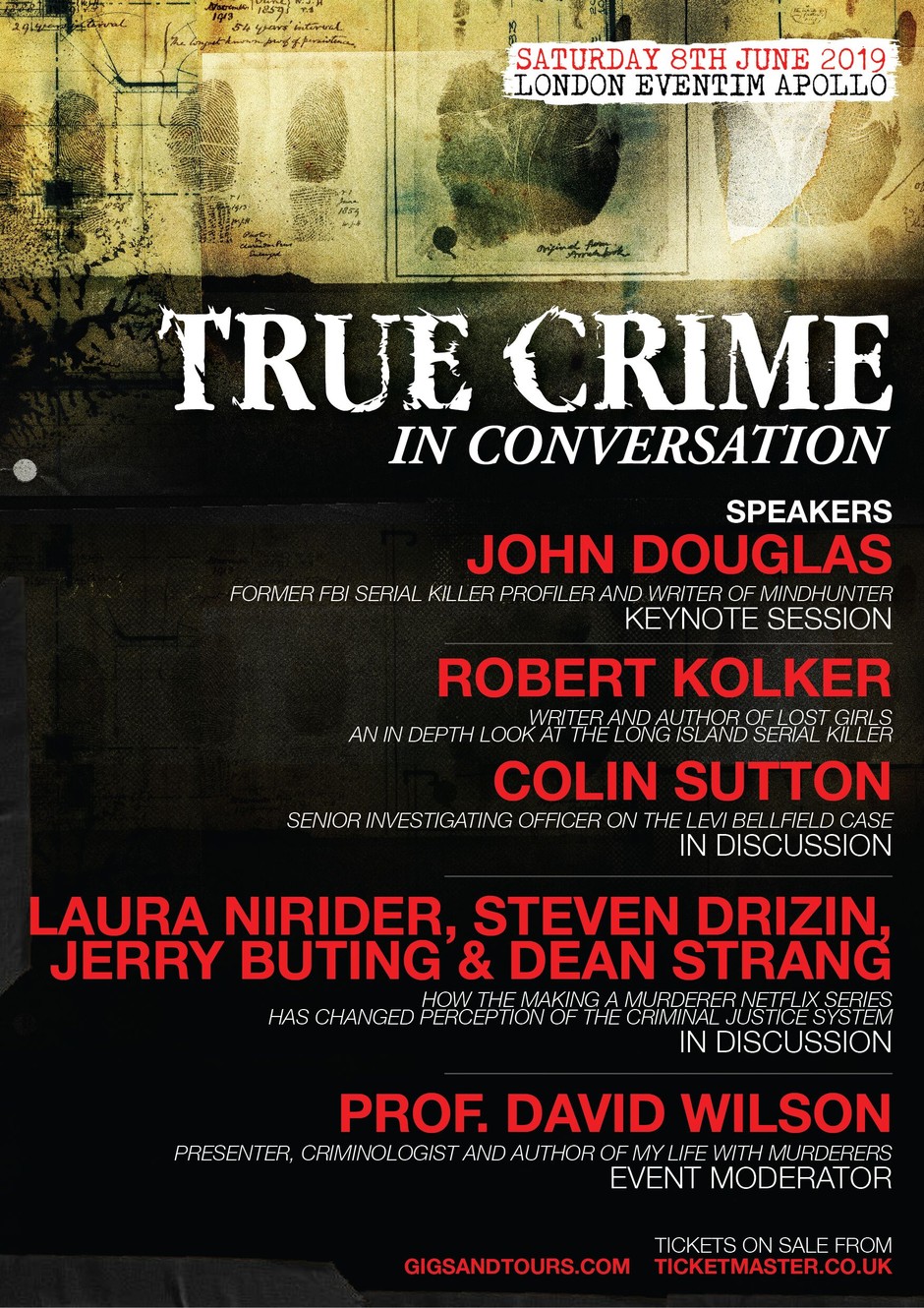 For one night this summer, London's Eventim Apollo hosts the True Crime In Conversation premiere. Featuring a panel of US and UK law enforcement and criminal psychology specialists, this event offers viewers the opportunity to gain an expert insight in to the criminal psyche - whilst the panel discuss their experiences of serial crime cases in a Q&A style with the audience.
Amongst the expert panel is John Douglas, former FBI serial killer profiler and writer of Mindhunter Keynote Session, which has since been made in to a Netflix documentary directed by David Fincher and starring Jonathan Groff. Rising to prominence in the 1970s as chief of the FBI's Behavioural Analysis Unit, investigating uncomfortable cases from cult leader Charles Manson, to the "son of Sam" serial killer David Berkowitz, it was Douglas who drew attention to the importance of psychological profiling in pursuit of a conviction; he is often credited with coining the term "serial killer" itself.
Also, on the panel is Robert Kolker, writer and New York Times bestselling author of Lost Girls - an in-depth look at the Long island Serial Killer. Lost Girls - An Unsolved American Mystery which was named one of the New York Times' 100 Notable Books and one of Publisher's Weekly's Top Ten Books of 2013 delivers a haunting and humanizing account of the true-life search for a serial killer still at large on Long Island, in a compelling tale of unsolved murder and Internet prostitution.
In conversation with Kolker and providing a UK perspective, is Senior Investigation Officer Colin Sutton, the man who led the investigation in to one of Britain's biggest serial killer cases; Levi Bellfield. Assigned to the case by the met, Sutton was able to draw links between separate incidents, collating small pieces of circumstantial evidence over painstaking hours of "old-fashioned detective work" which eventually lead to a conviction.
Laura Nirider, Steven Drizin, Jerry Buting and Dean Strang, lawyers from the Steven Avery and Brendan Dassey cases documented in the Netflix series Making a Murderer, will be discussing how the case has changed the perception of the criminal justice system. Professor David Wilson - Presenter, Criminologist and Author of My Life with Murderers will serve as moderator for the evening.
The event will take place for one night only at London's Eventim Apollo, June 8th, 2019.
John Douglas Biography
As an innovator at the FBI in the late 1970s, John Douglas developed new investigative techniques for hunting serial killers, sex offenders and other violent offenders. Advancing the use in investigations of the procedure known as criminal profiling, Douglas became widely recognized as its top authority. A mix of psychology, pattern recognition, and inductive/deductive reasoning, criminal profiling allows investigators to make educated guesses about suspects-sometimes accurately predicting their age, background, personality, and other identifying characteristics from the barest of clues. While leading the FBI's Investigate Support Unit, Douglas used profiling in numerous prominent cases.
Robert Kolker Biography
Robert Kolker is the New York Times bestselling author of Lost Girls, named one of the New York Times' 100 Notable Books and one of Publisher's Weekly's Top Ten Books of 2013. His magazine journalism most often takes the form of gripping, humane narratives. Among his subjects include his 2006 investigation into sexual abuse in the ultra-Orthodox Jewish community helped bring an abuser to justice and was nominated for a National Magazine Award. His exploration of an eighteen-year murder-exoneration case and the police tactics that can lead to false confessions received the Harry Frank Guggenheim 2011 Excellence in Criminal Justice Reporting Award from the John Jay College of Criminal Justice in New York. Other articles of note include the police shooting of Sean Bell and Chesley "Sully" Sullenberger's Miracle on the Hudson.
Eventim Apollo, London
Saturday 8th June 2019
Buy Tickets